Hotline: Europe: 00-800-24-26-80-80 |
USA: 1-888-576-9668 | Global Contact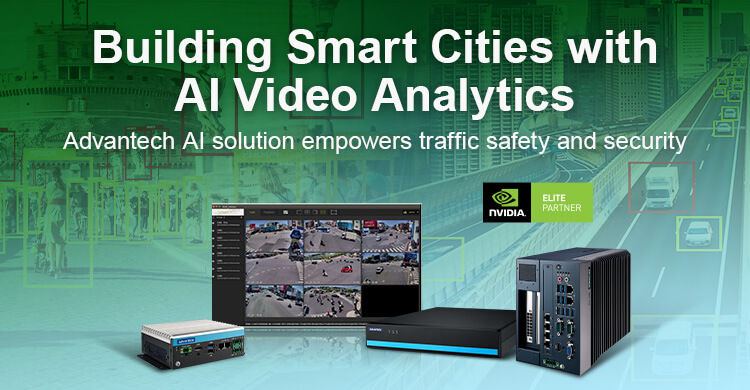 Smart City technology leverages AI to improve quality of life.
It reduces crime, shortens commutes, and lowers carbon emissions
At present, 55% of the world's population lives in urban areas. Rising populations in major cities, coupled with the expansion of regional cities will increase this number to 68% by 2050. This increase will inspire demands for better infrastructure within limited space, greater affordability, and improved quality of life. Accordingly, smart cities are proposed as a solution to growing urbanization challenges.

Advantech AI Platforms Empower Smart City Infrastructure

NVIDIA GPU Enabled
For AI Edge Computing

Remote Management
For Large scale deployment

Industrial Design
for outdoor environments

Flexible I/O
enables customization

AI SDK Software
Quick deployment
Success Stories

AI video monitoring system improves road infrastructure and traffic management
Advantech helped the U.S. Department of Transportation (DOT) create a powerful and robust artificial intelligence (AI) video monitoring system that improved road infrastructure and traffic management within its districts. This system tracks objects while delivering actuation and data collection, thus enabling safer street transportation and reduced traffic congestion.


AI Empowered Indoor and Outdoor Facility Safety
Modern construction sites utilize real-time visual detection systems that analyze 20 to 30 live streams simultaneously. In these systems, visual AI increases the visibility of on-site workers and equipment to improve responsiveness in potentially dangerous situations — for example employees carelessly approaching moving machinery.


Smart Anonymization Security Systems Improve Travel Safety
This alternative technological solution entails a smart surveillance system that anonymizes real-time video data while to providing insights for airport management. The development and implementation of this solution also complies with health and safety regulations. Indeed, it decreases costs while increasing the quality of service in airports around the world.
Advantech Product Offerings
Edge AI Roadside Fanless Compact Systems

MIC-710AIL
AI inference lite system with NVIDIA® Jetson Nano™


MIC-710AIX
AI inference system with NVIDIA® Jetson Xavier™ NX


AINavi-CMS
Quick-deployed AI CMS system supports 8-channel IP camera streaming


AINavi-SDK
AI SDK supports content analysis, bio-identification, and behavior analysis

Contact Advantech


For more info on these products, please call our toll-free line 1-800-205-7940 or email us at ia@advantech.com.tw
© 1983-2021 Advantech Co., Ltd. |